The Modelica ProcessingLine library, developed by Dofware, provides a solution to bring your processing line in the virtual world of modeling and simulation. This library gives you a complete set of mechanics and machinery components to model processing and handling of materials with the aim of determining their electrical consumption.
The library support the development of virtual process plants (Digital Twin). The library can be used in the chemical, pharmaceutical, food, agricultural and mining industries.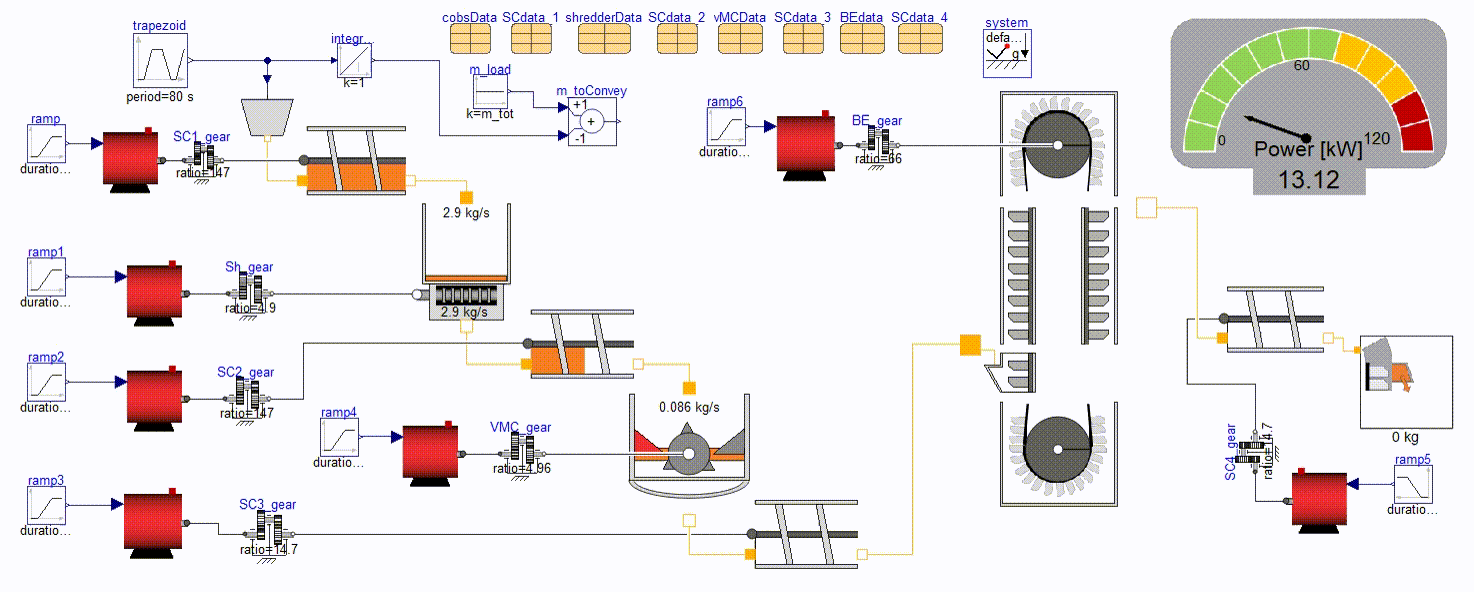 Main features:

Wide applicability and easy scalability (modeling from single phenomena to the entire machine);
Ready-to-use and/or customizable models according to the needs of use, which particular focus on:

Material handling: auger, bucket elevator;

Material processing: crushing machine, grinding machine;

AC and DC electric motors.

Machine models with animated icons to increase the understanding of the simulated process;
Models can be exported as FMU;
Parametric setting characteristics of raw material to be processed;
Models developed with ProcessingLine library support the full lifecycle of the physical plant:

Design: Project and test different plant configurations to choise the best before build real plant;

Production planning: Fine electricity consumption forecast to support sustainable choices during planning activities;

Plant monitoring: The digital plant can analyse data that come from the real plant (eg.: thru an IIOT platform) and highlight potential issues.
The video below shows an overview of library components:
The following video show a screw conveyor build with ProcessingLine library:
Highlights:
easy connections;
parameterized models;
physical processes modeled within the machinery components;
simulation setup and run;
animation;
relevant results:

power used by every motor

power used by the whole Plant

monitoring of material flow rate along the line
process time monitoring
The ProcessingLine library was created as part of the HOME project (Hierarchical Open Manufacturing Europe), co-financed by the Piedmont region and aimed at estimating electricity consumption in an industrial plant.
For information and downloads Contact the Sales office